IO1: Best Practices Report
The report will be built on best existing practice in the area of game-based teaching and assessment from experts from all over Europe. It will include materials, resources, research and documented case studies of game-based approaches to teaching. Also, it will describe the challenges experts were facing during implementation of the practice and an articulated set of advice on how to confront the above challenges.
Leading partner: Vilnius University (VU)
Cite this report: Medeisiene, R. A., Sciukauske, I, Karasa, D., Maratou, V., Chaliampalias, R., Moore, J. D., Abdullahi, Y., Hasani, S., Sousa, C., Luz, F., Barroso, I., Neves, P. P., & Fonseca, M. (2021). The Challenges and Opportunities of Analogue Game-Based Learning. TEGA Project/London South Bank University. http://dx.doi.org/10.13140/RG.2.2.30907.54567
Best Practices guide on European game-based teaching (EN , EL , LT)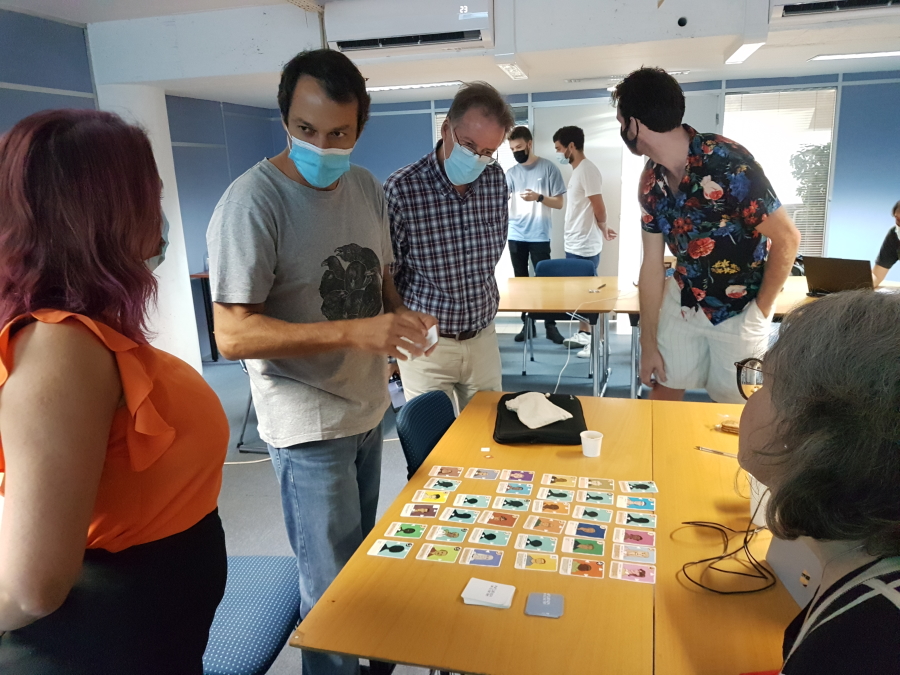 IO2: TEGA Methodological Guide
The guide will include information required for educators to create and implement the game-based learning activities in their specific contexts.
The participants we be involved in the validation of Methodological Guide in this output which will be heavily informed by the IO1 Best Practices Guide.
Review and feedback for the guideline will come directly from users and participants to direct the development of a high quality and high impact teaching methodology. It will be adapted to the cultural background of the target country and the necessities of the respective subject area.
Leading partner: London South Bank University (LSBU)
You can download the configuration files to install the TEGA Toolkit app on your computer (here). Installation guidelines are included. If you have queries on the TEGA Toolkit app, please contact us.
IO3: E-learning (TEGA online course)
E-learning will function as a Massive Online Open Course (MOOC), with an assessment system, aiming to capacitate anyone attending the course to successfully implement game-based learning and assessment activities in their professional lives.
The output is based on the evidence and best practices identified. The e-learning system will be developed to match defined requirements and it will include step by step videos and material concerning game-based learning, strategies of implementation, and information regarding specific groups and subject areas.
Leading partner: Lusofona University
"Beyond the Board: Using Analogue Games to Develop Abstract Thinking and Soft Skills"
This online course explores the potential of analogue games to foster the development of abstract concepts and soft skills. You can enroll to the course for free here.
IO4: TEGA Community of Practice (CoP)
An open online service that will facilitate creation of the EU Network of Practitioners of TEGA game-based teaching.
The CoP will contain resources management, users' communication and evaluation, documentation and will be continuously enriched with new content.
The community will include a combination of online meetings, live online events and collaboration (projects per working group) over time within the online services.
Leading partner: Hellenic Open University (HOU)
Link to the TEGA Community of Practice platform